CoMoveIT Smart wins an international award!
May 31, 2022. Barcelona.
ENGLISH ARTICLE https://www.kuleuven.be/brugge/nieuws/nieuws/smart-wheelchair-wins-international-technologyinnovation-award-2022 
NEDERLANDS ARTIKEL https://www.kuleuven.be/brugge/nieuws/nieuws/slimme-rolstoel-wint-internationale-technologyinnovation-award-2022
NEDERLANDS ARTIKEL https://www.made-in.be/west-vlaanderen/brugse-comoveit-wint-prestigieuze-innovatie-award-met-rolstoel-van-de-toekomst/
Electric wheelchairs are usually controlled with a joystick, but for some users this is not physically possible. CoMoveIT's smart wheelchair steering system offers a state-of-the-art solution for this using sensors and artificial intelligence. This invention has now been awarded the international EACD Technology & Innovation Award 2022.
Technology and innovative solutions are increasingly making a difference in our society and in pediatric rehabilitation. The European Academy of Childhood Disability (EACD) stimulates new developments and presents the Technology & Innovation Award annually. At this year's congress in Barcelona, this internationally prestigious award was presented to CoMoveIT for their innovative and high-tech operating system CoMoveIT Smart.
"The smart control system is good news for people with complex movement disorders," explains Sotirios Gakopoulos, CTO of CoMoveIT and co-inventor of the system. "Just think of wheelchair users worldwide with cerebral palsy (cerebral palsy). Because of their condition, they make many involuntary movements, which prevents them from operating a traditional electric wheelchair. They are therefore dependent on the help of others for their movements. Our wheelchair control changes that and creates maximum independent mobility."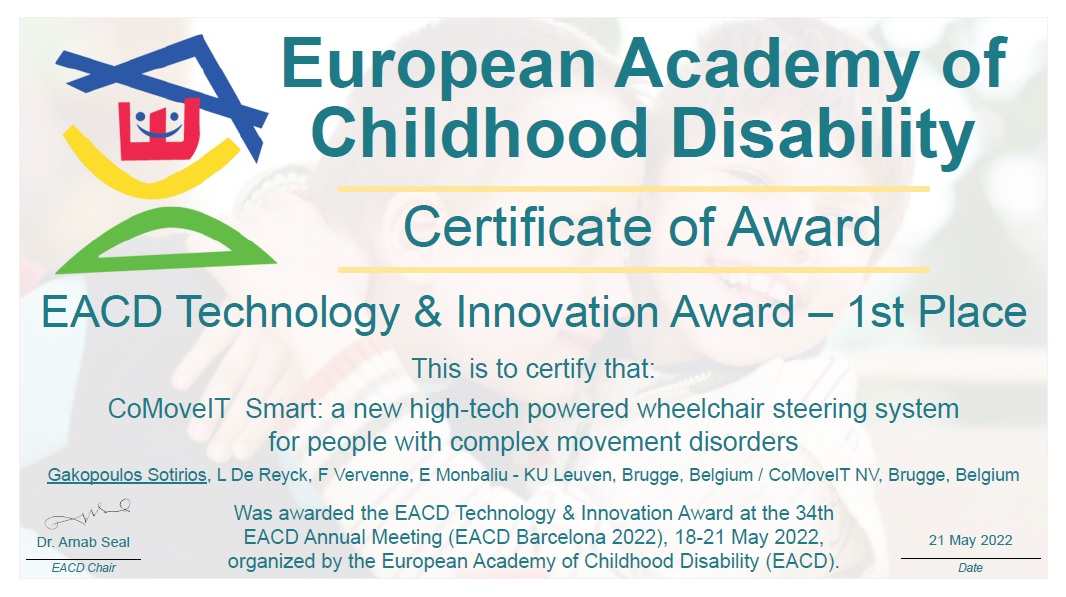 Technology developed at KU Leuven, Belgium  
The CoMoveIT Smart was evidence-based developed at KU Leuven under the leadership of Professor Elegast Monbaliu, also Chief Clinical Officer of CoMoveIT. "We are honored and proud to win this award. It is an international recognition for our approach and immediately shows the importance of this product for users worldwide. We are using State-of-the-Art technology. Because our head-foot control continuously adapts, even people with complex movement disorders can operate an electric wheelchair. Many of them have great intellectual potential, but their severe motor problems limit their options. Our wheelchair control can help break that motor lock-in. We are addressing the international need of this group of wheelchair users and give them more autonomy, participation and quality of life," says Professor Monbaliu.